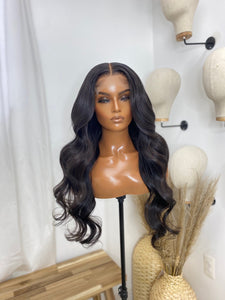 After a YEAR of convincing I am FINALLY apart of the wig gang!!!! When I say this unit is the absolute BEST!!! The quality of the hair is OUTSTANDING not to mention the packaging is very inviting!!! Certified Textures allows you to tap into a GRAND experience from when you order to when you're in the mirror transforming!! Thank you for quality, style, LUXURY and of course GLAM!!!!

JOANNE H.
This was my first purchase with Sam and I emailed prior with questions and sent some messages on Instagram. She's timely with responses and has excellent customer service. The unit fits amazingly (yes I measured my head) and was styled exactly how I asked! I have no complaints and will be getting another unit soon!

KHAYLEN B.
Overall, I love certified textures! Customer service is very sufficient! And let's get into this unit that I've had for OVER A YEAR HONEY!!! I still get compliments on how soft and shiny the hair is, I colored it twice & it STILL looks fresh. I definitely recommend Certified Textures for anyone that's always on the go, or don't want to get up and do their hair everyday or go get their hair done. It's definitely worth every penny spent! Yay!

Maya B
I've been going to Sam for two years now and she's my only go to! She has outstanding customer service she's such a sweetheart and the quality of her wigs are worth every dollar you'll spend, the texture of her bundles and the closures are bomb!!! And she's fast when she makes her wigs she's not the kind of person who takes three weeks to get your wig done it be done within that time frame you need it. I love her work I definitely recommend!!!

MIA T.
This was my very first wig and now I have 3 and 1 on the way. Very easy to put on and take off, no glue or tape needed. Very breathable, non damaging. The physical construction of the wig is flawless! Also!!! I have a big head and it fits my big head with absolutely no problem and it's very easy to adjust. Hands down the best wig creator period!

DANNI H.
I have had wigs made by many and only these FIT and LAST! I would definitely recommend anyone get their wig done, it's affordable and it lasts. I've had my wig for At least 4 years and it is still in tact! 100 percent WORTH IT!

TATIANNA H.